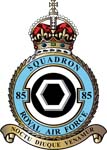 85 Squadron



85 Squadron Association web site: www.85sqnassociation.com

85 Squadron Section Names
85 Sqn. A Flt Sections - Green, Black, Orange
85 Sqn. B Flt Sections - Blue, White, Brown
85 Sqn. C Flt Sections - Yellow, Purple
85 Sqn. D Flt Sections - Pink, Silver
85 Squadron Engineering Conference
1984 or 85 at RAF Bawdsey. Courtesy of Terry Bright (OC MSF, RAF West Raynham).
Photo taken in the gardens of Bawdsey Manor. Terry believes it was a dinning in night after an 85 Sqn Engineering Conference. A few stalwarts of the Bloodhound system in this photo! Terry's comment: Some young engagement controllers present so it was a good job the photo was taken before the meal. I know we all stayed the night in the manor so it wasn't far to stagger to breakfast!
Can anyone add names?
85 Squadron Disbands 1st July 1991 - Raynham News (Courtesy of Jim McInally)
Item from the Raynham News announcing the disbandment of 85 Squadron and the end of the Bloodhound Force,

Courtesy of Noel Davey
Neol was on the MT section at RAF West Raynham and served as a driver for 85 Sqn, 1980/81.
85 Sqn's display bird in transit, i.e. bird on a lorry and launcher on the trailer.
Noel believes the photo was taken in 1980/81 possibly at Clacton on Sea.
Source unknown (sourced from Ebay!)
Two images from the Silver Jubilee display by the RAF in 1977.
85 Squadron display missile.
See 25 Squadron's page for additional photo's taken by
Roger Jones prior to the public day.